Donations/Fundraising
PAWS is a 100% volunteer-run organization. We operate through fundraising, donations, and grants. It goes without saying that fundraising is a vital part of our organization!
We hold many events throughout the year to fundraise, including bake/hot dog sales, raffles, online silent auctions, and our yearly yard sale.
There are many ways you can help PAWS!
FINANCIAL DONATIONS are gratefully accepted. A tax-deductible receipt is issued upon request (we'll need a name and address) for any type of donation over $20.
Our charitable status business number is 89135 2569 RR0001.
Mail your donation or come by the shelter to pay by cash, cheque, or debit:
PAWS, 2805 Lower Wynndel Rd., Creston, B.C. V0B 1G8.

Donate online by e-transfer (send to treasurer@pawscreston.ca). You can also pay by debit or credit card, PayPal, or through CanadaHelps.org.

COLUMBIA BOTTLE RECYCLING: Donate your recyclables. Bring the recyclables to the depot and tell them it's for PAWS. 1420 Northwest Blvd, Creston, BC V0B 1G6. While PAWS does not have recyclable bottle pick-up service, your donation is greatly appreciated. If you can't bring the recyclables (e.g., vehicle or mobility constraints), please call the office at 250-428-7297 and we'll put the call out for a volunteer to pick up the bagged/boxed (only) recyclables.

CRESTON AND DISTRICT CREDIT UNION: Simply let them know it's for PAWS. You can also set up automatic monthly payments.
CRESTON VALLEY COMMUNITY FOUNDATION: The Foundation pools your tax-deductible donation with other donations and invests it.
You'll get a tax receipt, and our shelter will benefit from an ongoing source of funding!
To learn all the different ways you can donate, see Making a Gift.

Tags for Hope

TagsForHope visualizes a world where adoptable and treatable pets are no longer euthanized, usually because a lack of space, a treatable illness, or they're considered unadoptable because of their breed, colour, or age.
TagsForHope works to empower shelters and rescue groups by giving them the necessary resources and support to save these at-risk pets.
Every purchase allows them to provide food, critical medical care, transportation out of a high-kill shelter, and give the pet more time to be adopted.
Order an ID tag from Tags for Hope and 35% of the proceeds go to PAWS! Be sure to keep your invoice as there's also a lifetime warranty on the tag.
How to order a Pet ID tag to support PAWS:
1. Go to tagsforhope.com/partners-program

2. Scroll down to 'Join our Program' > 'View all partners' > Scroll down and click on our PAWS logo .





The page "Pet ID Tag" will open.

3. Click on your favourite design.

The window below will open. You'll see our logo and the text that 35% of the purchase will go to PAWS.
4. Begin inputting the information you want on your tag.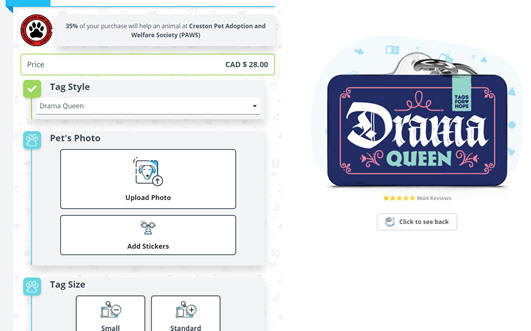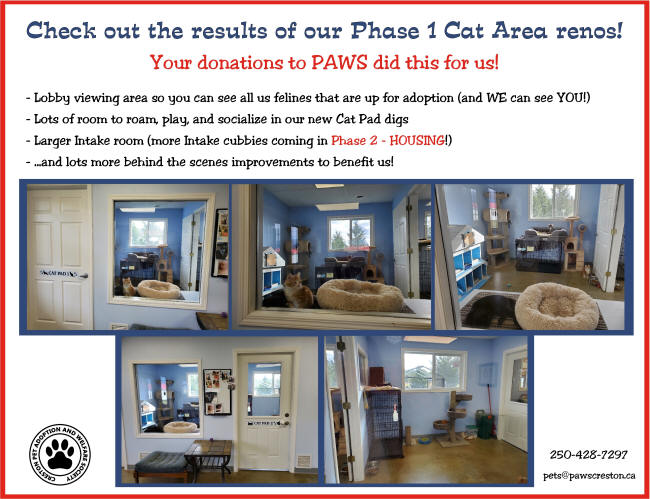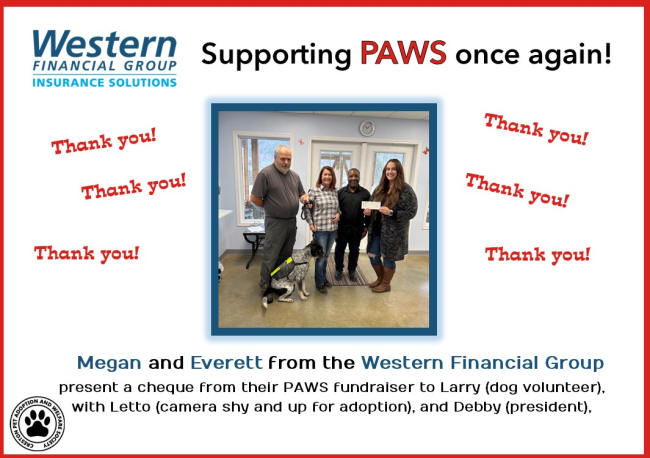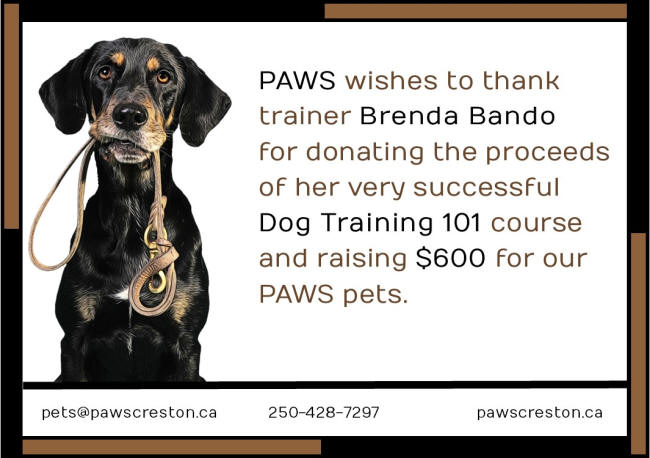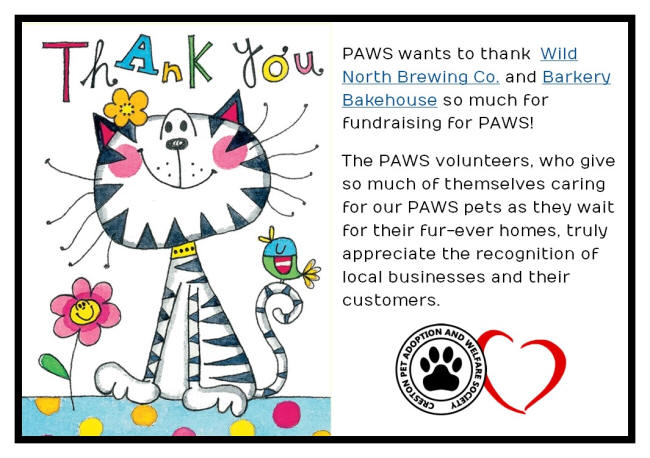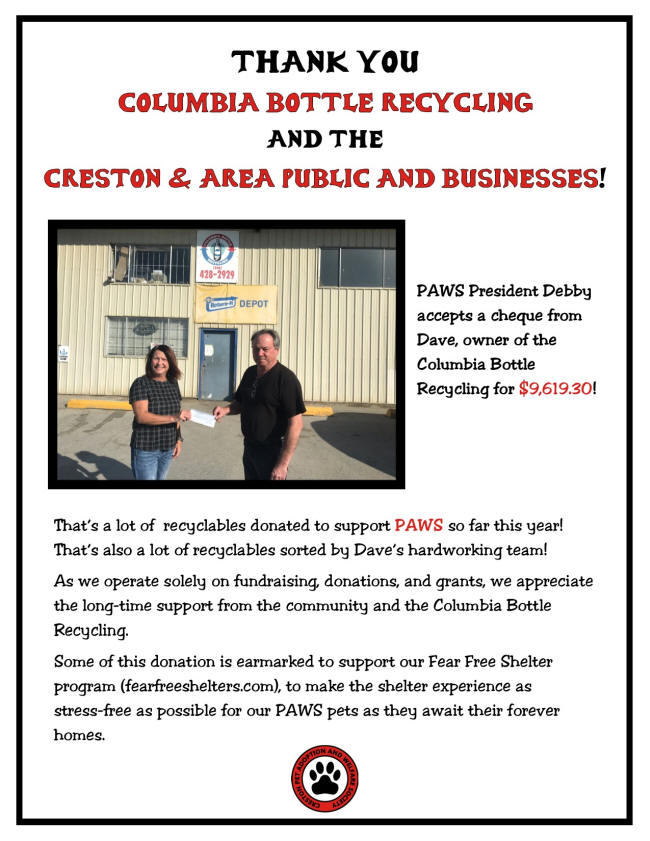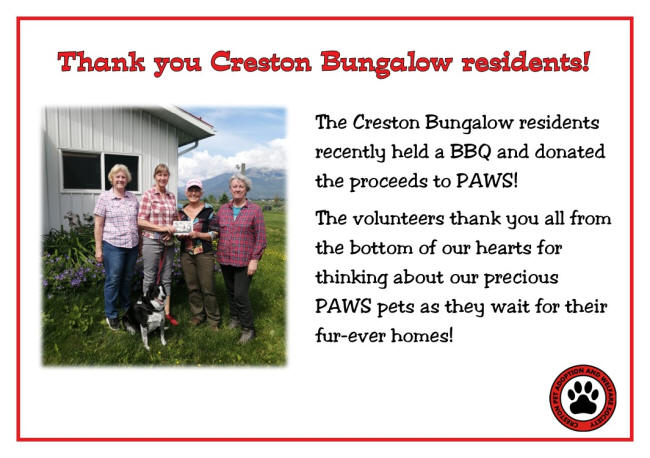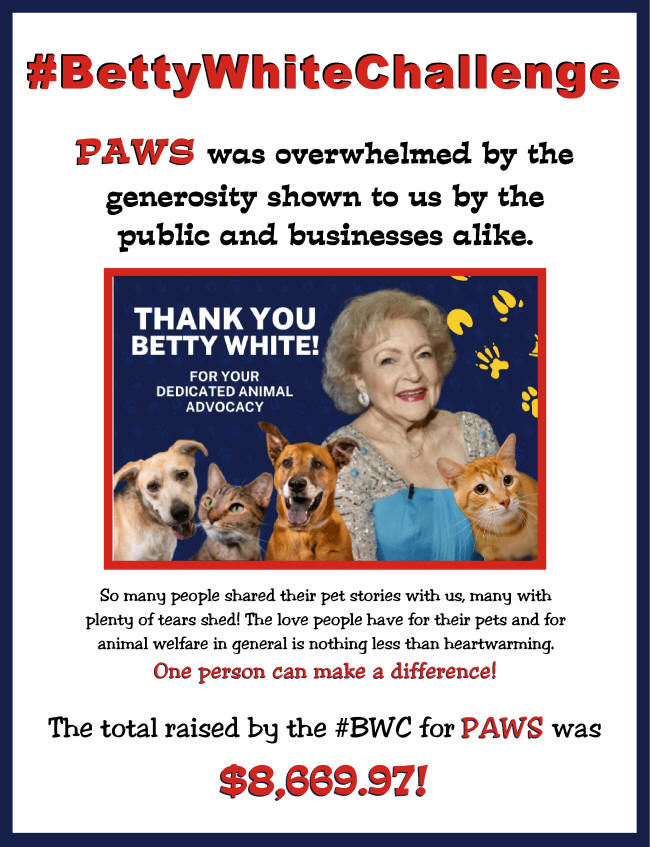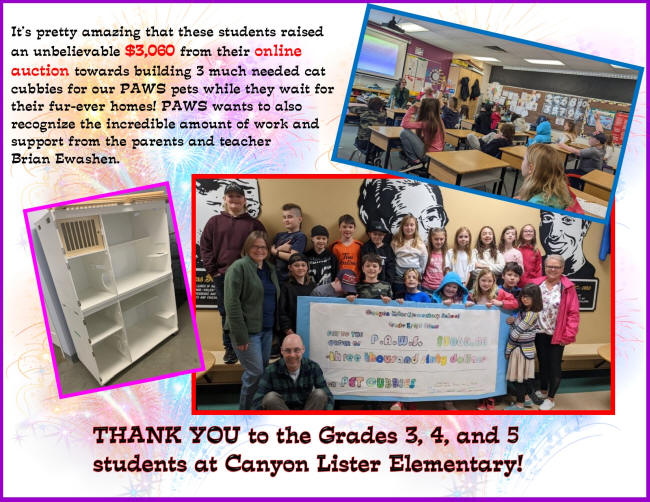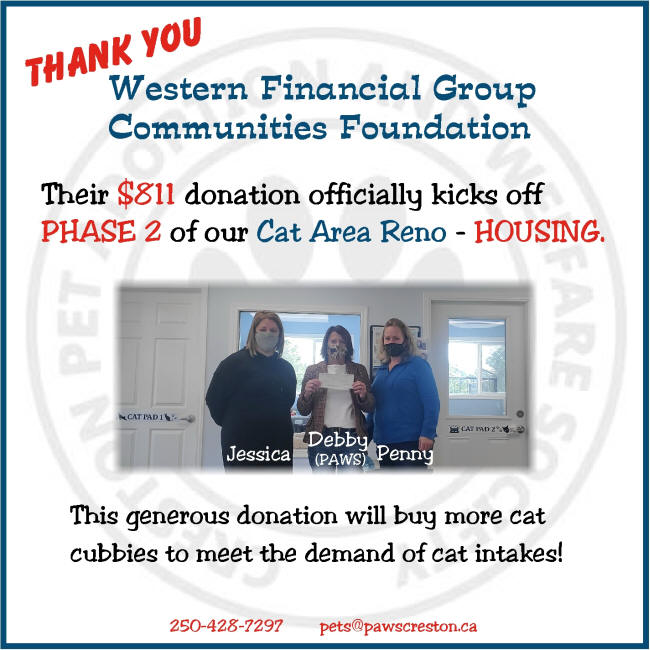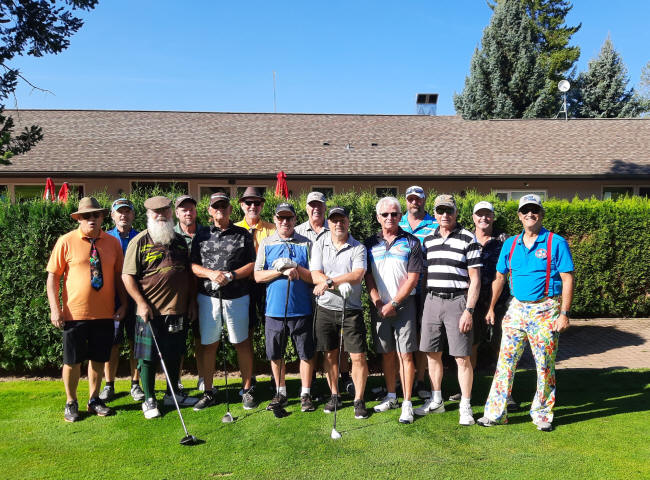 PAWS is always grateful for donations! Today we want to express our deepest thanks to the Birdie Back Invitational Golf Tournament group for their $100 donation. 100% of donations are used to support our PAWS pets!
---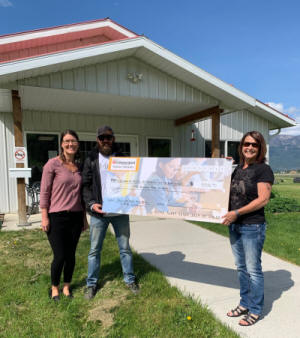 The PAWS fundraising for the Cat Area renovations got another much needed boost when PEALOWS put on a 'Donate $2' fundraiser at their tills. Our generous community raised over $2300 in the week that it ran. And the icing on the cake? PEALOWS donated the balance so that we reached our goal of $20,000! Needless to say, all the volunteers at PAWS are over the moon happy!!!
Phase1 of the renovations is now a reality because of the amazing support from the public and local businesses.
Gratefully accepting the $5300 cheque from Julia and Brian Pealow is PAWS President Debby Crane.
---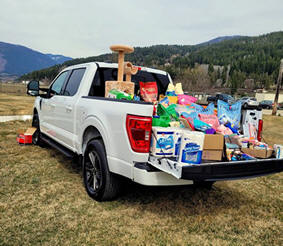 Huge Shout out to Garrett and Natasha Huscroft with Kokanee Ford for raising funds and providing much needed supplies for the shelter. Big thanks to Laurie and Tom Barrett from Hound N Mouser for offering a generous 25% off to anybody purchasing product to help fill this beautiful F-150 truck for PAWS. Not to mention doing the delivery that helped fill the truck! High Five to Creston's own Jensen Shields of Juice FM for helping spread the word about this rad fundraiser! We are so much closer to raising the money PAWS needs to start and complete the renovation on our Cat Area at the shelter. Make sure to check out our $ Thermometer. We will keep you posted on our progress!